If you have enjoyed the rest of this blog, you may be interested in my books. 
OLD MAN SAILING: Some dreams take a lifetime.
When COVID-19 struck the UK, the government advised the over-70's to "shield" while the country went into Lockdown. One old man went sailing instead. Single-handed and self-isolated, retired journalist John Passmore used the pandemic to achieve an ambition which had eluded him for 60 years. For 3,629 miles, he disappeared into a world of perfect solitude, adventure and adversity – arriving back 42 days later, short of water and with shredded sails to find himself celebrated on national radio as the embodiment of everybody's Lockdown dream. This is his story. It is also a story for anyone who ever thought a dream was unattainable.
Reviews: 
Jeremy S. Percy
5.0 out of 5 stars
A captivating story for sailors and landlubbers alike
This was a genuinely fascinating read, sharp and pragmatic yet with due deference to the romanticism of the sea. The author is a retired journalist and is clearly adept at putting down his thoughts and observations in a very readable way. I'm a sailor but my wife is most definitely not but we both enjoyed it immensely.
Skipper
3.0 out of 5 stars
Not what the title says.
If you were expecting a story of a bumbling naive weekend sailor setting off into the great unknown to test himself this is not it. The author is clearly an accomplished yachtsman who set off in his well-founded and tested yacht on a journey which he had done before-so the sense of adventure is never really there in spite of low water supplies and torn sails. However, the story of the journey serves as a reference to some of the more exciting parts of his sailing biography. All in a good read told with modesty and wit.
Greenwave
5.0 out of 5 stars
Great read whether a fellow sailor or an armchair dreamer
What really comes over in this book is the character and nature of the 'old man sailing'. He feels very real and tells it how it is and was.
Richard Keen
5.0 out of 5 stars
Age is not a problem!
This is a charming book. Amusing, informative and also reflective.
Des Owen
5.0 out of 5 stars
Excellent Read
Well-written book, a most enjoyable read. Knowledgeable and experienced sailor with a passion for writing and storytelling. Will lookout for his next book. Well done, you didn't disappoint.
Mark
5.0 out of 5 stars
Absorbing sailing story
Too many sailing yarns are disappointing because the author doesn't know how to tell a good story. Especially self-published ones. This is different. John Passmore can write, really well. Which I guess you would expect from a former Fleet Street hack. It's really good stuff, entertaining and inspiring. Not a dull moment in it.
Mr G Gillies
5.0 out of 5 stars
A joy from start to finish.
John's skilled writing had me hooked from the first page. This book was an absolute joy from start to finish. John's way of describing his adventure in such wonderful detail really gave me a clear picture of this whole adventure. It was a heartwarming and at times funny read and one I would heartily recommend.
Tyrrell Day
5.0 out of 5 stars
Loved it and I'm no sailor!
Excellently written, informative, interesting and amusing.
Rosie
5.0 out of 5 stars
Great page turner. I totally recommend this book
You do not need to be a sailor to enjoy this book. The style in which it is written is witty and a very smooth read.
Kindle Customer
5.0 out of 5 stars
Fantastic Read
Such a super read from beginning to end. It will capture the imagination of both a landlubber and a sailor. It's up there with the classics!
Available on Amazon at https://www.amazon.co.uk/s?k=old+man+sailing+john+passmore&i=stripbooks&crid=3K17H8M6ISBZY&sprefix=old+man+sailing%2Cstripbooks%2C281&ref=nb_sb_ss_ts-doa-p_1_15
TRIDENT – The future is out of control and it's happening now.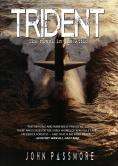 A new Prime Minister committed to scrapping Britain's nuclear deterrent – a Russian president meddling in other countries' elections and an isolationist in the White House…Does any of this sound familiar?John Passmore's prescient novel, written in the 1980's and set in what was then the future, suddenly becomes terrifyingly relevant today.As NATO collapses and Russia looks to the West, the future of the world rests in the hands of a submarine captain, his aged father, an old-fashioned reporter and a government secretary in love with a man who is not what he seems…"Fast-moving and immensely prescient, there are echoes of the early works of Ken Follett and Frederick Forsyth." – Daily Mail
Reviews:
John
Mr John Niblock 5.0 out of 5 stars Excellent, I wish it was longer Reviewed in the United Kingdom on 19 November 2017 Verified Purchase
I don't think I've ever done a review here before, but I really enjoyed this book. I'm a fairly voracious consumer of crime and thriller fiction of the John Grisham, Lee Child, Michael Connelly & Stephen Leather ilk for example. I saw this book reviewed favourably in the Daily Mail Friday book section and thought that it looked interesting. Of course it dates back to the UK of when I had just started working nearly 40 years ago which might be part of its attraction. I really enjoyed the book, it was a fascinating story. Having read the authors note it has become more obvious that it was originally somewhat longer, and I would have liked to have seen more of the original detail. But if you like fast moving political, crime, military, espionage UK based thrillers I strongly recommend you put this on your to read list. I read it in three or four sittings and I was sorry when I finished it as I would have liked it to go on for longer.
Shiel Campbell 5.0 out of 5 stars
Reviewed in the United Kingdom on 22 January 2018
Verified PurchaseI came across this, rather topically, when a submarine disappeared off South America recently. The storyline could have worked just as well today as when it was written. My mother was a Greenham Common woman and campaigned to get American Nuclear Bases off British soil, she would have enjoyed reading this as much as I did.
DB EVANS 5.0 out of 5 stars So good i read it twice Reviewed in the United Kingdom on 27 March 2019 Verified Purchase
This is a fast moving story with a great tale to tell. I could hardly put it down which is why I read it twice. Really enjoyed it.
Available on Amazon: https://www.amazon.co.uk/Trident-John-Passmore-ebook/dp/B074DWP56S
Pages: 1 2