My daughter stumbled on this blog before I launched it. Her response?
"I can't believe it! You've told your whole life story and you haven't mentioned us once. We are your children, you know…"
So, in chronological order, here they are:
Oliver, b. 1972. High-powered lawyer in Jersey. Married to Natalie, equally high-powered finance director. Parents to Benedict and Phoebe.
George, b. 1974, Classy estate agent in Queenstown New Zealand https://www.facebook.com/GeorgeQueenstownrealestate/ Married classy Oregon-born Hayley and loving the Kiwi lifestyle.
Owen, b. 1996 writer of novels and short stories in the fantasy genre after graduating from the University of East Anglia's celebrated English with Creative Writing course. In July 2018, setting off to teach English as a Foreign Language in China (where he will add to his Asian cuisine repertoire)
Theo b. 1997 medical student and party animal at University of Liverpool. Also, serious middle-distance runner.
Lottie b. 2000 'A' level student leaning towards English or History and possible career in journalism. Another runner.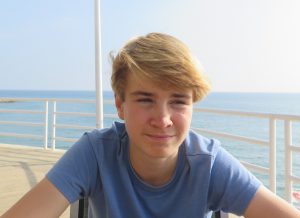 Hugo b. 2002 successful student and weekend sailor. Possesses an extraordinary ability to fix all things mechanical including his extensive collection of wristwatches.
The Grandchildren
Benedict and Pheobe are fabulous. What has been so fascinating is that Benedict was always rather shy. Then his little sister came along and proved to be the bossiest three-year-old anyone had ever seen. Result: Benedict is as confident as they come…