My daughter stumbled on this blog before I launched it. Her response?
"I can't believe it! You've told your whole life story and you haven't mentioned us once. We are your children, you know…"
So, in chronological order, here they are:
Oliver, b. 1972. High-powered lawyer in Jersey. Married to Natalie, equally high-powered finance director. Parents to Benedict and Phoebe.
George, b. 1974, Classy estate agent in Queenstown New Zealand https://www.facebook.com/GeorgeQueenstownrealestate/ Married classy Oregon-born Haley and loving the Kiwi life.
Owen, b. 1996 Writer of fantasy stories after graduating in English with Creative Writing. While awaiting literary success, he works for a games company in Norwich.
Theo b. 1997 Medical student, barman and DJ at the University of Liverpool.
Lottie b. 2000 Studying Liberal Arts at the University of Leeds. A keen climber and runner.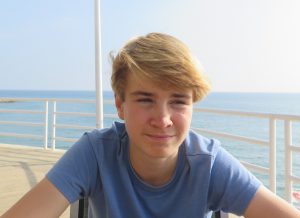 Hugo b. 2002 'A' Economics student at Sheffield University with a penchant for fixing all things mechanical.
The Grandchildren
Benedict and Pheobe are fabulous. What has been so fascinating is that Benedict was always rather shy. Then his little sister came along and proved to be the bossiest three-year-old anyone had ever seen. Result: Benedict is now as confident as they come…