So that's it: I'm going by the logical route.
The "Logical Route" has a certain ring to it. This was what the great French singlehander Bernard Moitessier suggested to his wife as the best way to get home from the South Pacific in time for the school holidays: Instead of flogging all the way over the top of Australia, across the Indian Ocean, through the Suez Canal and across the Mediterranean to Marseille, wouldn't it be much quicker and certainly a lot less distance to nip round Cape Horn?
This was 1966. Hardly anyone had sailed a small boat round Cape Horn – and those who had told terrible tales.
The Moitessiers made it – and, in doing so, set a record for the longest voyage in a small boat – 14,216 miles in 126 days.
But I'm not going round Cape Horn. I am going to Blyth in Northumberland – and I have been sitting here in Carlingford Lough on the border between Northern Ireland and the Republic debating how to get there.
First, a little explanation: When I bought Samsara, she came with a good solid spinnaker pole and a flimsy little stick which hardly deserved the name of whisker pole. The first thing I did with this was to bend the piston mechanism on one end.
Then the mechanism on the other end.
In fact, I bent the pistons and had them straightened (and weakened) so frequently that it might not have been an accident that on the way back across Biscay in the aftermath of Storm Ellen, the wretched thing slipped its lashings and disappeared over the side.
What I needed was a proper spinnaker pole to replace it. For one thing, I wouldn't keep bending it. Secondly, if I were to get a spare headsail, I could fly matching twins and (thirdly – and not insignificantly) quite the best jury rig is constructed by using two identical poles as an "A" frame.
I posted on the Rival Owners Facebook page a plea for anyone who had a pole they didn't need – after all, how many people fly symmetrical spinnakers these days?
Sure enough, another Rival 32 owner said I would be welcome to theirs.
In Blyth.
I was in Liverpool at the time and feeling rather delicate after a particularly good evening with my son Theo, the medical student. As the crow flies, Blyth is hardly more than 100 miles from Liverpool.
Another point in its favour is that it is not terribly far from Matlock in Derbyshire – and I was due in Matlock for the annual family walking weekend in the Peak District. I could get a train from Blyth.
The only trouble was that the 100 miles from Liverpool to Blyth was all land.
The sailing options were to go over the top of Scotland or, alternatively, back down the Irish Sea, up the English Channel and north from there – 900 miles in all. Also, I was beginning to think of the English Channel rather as a trucker thinks of the M1.
Obviously this is going to provoke all those South Coast sailors to catalogue the delights of Salcombe, the Newtown River and even Brighton Marina. So I should explain that, if you don't stop,  those 300 miles from Land's End to the North Foreland really can feel like Newport Pagnell to Donington Services (I did it six times, one year).
The northern route, on the other hand, had a lot going for it: Not only was it only 560 miles but it would tick a lot of boxes. Regular readers may remember that when Lockdown was first mooted, I had a notion to self-isolate in the Orkneys (until the local authority up there pleaded with second-home and campervan owners – and, by implication, yachtsmen – not to come and swamp their little hospital).
Also, I have never visited the northern Hebrides or any of those dramatic sea lochs. I could go to Mull and Skye. I would see Cape Wrath…
Admittedly, this would be happening at the end of September and for most of October and all the books tend to dwell on how quickly the weather can change and how very rough it can get up there with wind over tide in the Minches. But weather forecasting today is remarkably accurate up to 48 hours.
After 48 hours, it becomes rather more like newspaper astrology.
For instance, this time yesterday, I had decided that the Scottish option was a non-starter when the Windy App offered this for the four-day forecast.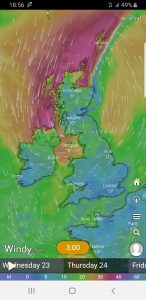 By this morning all that "red wind" has shifted south:
Still, if it does shift back again, there are more anchorages in the Hebrides than there are salmon and I have a whole month to cover 560 miles. I can afford to spend a few days snugged down in some deserted anchorage with the stove lit – self-isolating.