Back in the early 90's when I used to write the Dogwatch column in Yachting World and had just moved aboard for what was supposed to be a life-long cruise (for what happened to that see "The Old Man's Story" page) the then editor, Andrew Bray, came up with the idea for a second column – a three-monthly series on the places we visited. 
It was to be called "Passing Through" and the idea was to give a flavour of the ports – the characters, the pubs, the boats, the history… and some pictures,  of course.
I think it must have run for about three years – until we stopped moving and finally gave the whole thing up as a bad job and rented a house. But it was well-received while it lasted.
Well, I've been looking back over the photos of the week in Galway and thought to myself: "That would have made a great "Passing Through".
The next thought was how sad it was that there was no point in suggesting to Yachting World that I should start writing again. Yachting magazines aren't what they were. Does anyone read them now? It's all video blogs…
And then, gradually, the suggestion filtered through that I had a blog…
Fair warning, though: This is 2,000 words.
Passing Through – Galway
You'll like Galway. You don't have a choice – the lock gate only opens for two hours on each tide so once you're in, there's nothing to do but drink Guinness and listen to traditional Irish Music.
Actually, I can think of worse ways of spending a week of gales.
Because that's what we did, my 16-year-old son Hugo and I. His flight out from the UK had been booked for months – carefully scheduled to get him back in time for his GCSE results – and of course, I had to make darned sure I was there in time to meet him.
So I sailed straight from Falmouth, pausing only to wait out a force seven headwind in a protected little pool at the entrance to Portmagee Sound.
In fact, I arrived early enough to stop at Inishmore, the largest of the Aran Islands. There are two things you need to know about the Aran Islands: Aran Sweaters and ruins.
Every day the tour boats disgorge swarms of Americans and Italians and – well, tourists from everywhere. As soon as their feet touch the ground, they split up and head off in two different directions – half to the cycle hire shop to pedal off to the medieval fortress of Dun Aengus, the other half to the Aran Sweater shop.
I looked round the sweater shop – after all, I wear a sweater all through the winter and there are holes in both elbows. However, I couldn't see the beautiful and unbelievably soft woollens on display lasting much past the end of November.
So it was off to the fortress. They charged for entry, of course – and the entrance was a 20-minute walk from the fortress itself. Alternatively, there was an award-winning ice cream shop…and anyway, I'd be coming back again with Hugo, wouldn't I?
For culture, I pedalled off to the "Nine Churches". It would be easy to miss these. I managed to find two surrounded by a neat graveyard with Gaelic inscriptions continuing long after the churches had been abandoned. But despite clattering all the way down the track to the sea, there was no sign of the other five.
When I got back, feeling a little cheated, there was a minibus waiting. The driver, an obvious character in a baseball cap and a Zapata moustache, sat biding his time while his passengers milled around the ruins.
So I asked him for directions to the other seven.
"Ah," he says. "There are only the two."
– Then why do they call them "The Nine Churches?
"Well, that's just what they call them."
I did think of asking why but sometimes in the West of Ireland, it doesn't do to ask too many questions…
I still had two days before Hugo arrived and wanted to look at Samsara's hull. There was a convenient quay at the entrance to the Kinvarra River. So there I was in the middle of the night poking around in the mud beside Parkmore Quay (built with money sent by the people of Canada, apparently) when suddenly there was a "hello" from the top.
Since I might look a bit suspicious, I explained that I would be drying out in the morning and wanted to check that the keel wouldn't be resting on a boulder or something. The pair of dog walkers, as they turned out to be, understood completely – that was their boat out there, the green one (it was pitch dark).
In the morning, as I knelt in the mud with a packet of scouring pads and discovered my very expensive Coppercoat anti-fouling was falling off, the couple returned. They came down and looked. They were sympathetic about the state of the bottom but complimentary about the Samsara's lines and, seemingly on the strength of no more than this, invited me for dinner.
Being an Englishman and not used to invitations from people I hadn't been properly introduced to, I made some excuse. 
But later, I wondered had I done the right thing? After all, people were different over here. They were friendlier…
I called and left a message – and that evening Anne came and collected me and I presented her with a bottle of wine that had survived six months in the bilges and a loaf of boat bread – and Alan returned from selling a guitar and another couple turned up – and we had a very convivial evening.
It was the same in Galway. No sooner had I met the harbourmaster than he was whisking me off for a Guinness – four, actually.
Hugo arrived on schedule – and so did a whole string of Atlantic lows, one after another. 
Well, if you're going to get stuck somewhere, I used to recommend Dublin. Now I recommend Galway. First, there was the Guinness which is not the same as it is in England because they pour two-thirds of it with Nitrogen and only the last third with carbon dioxide. Then there is the music – everywhere in Galway there is music: In the pubs, in the streets – Tig Coili is the famous music pub but right outside any day, you can find the Galway Street Club, a loose group of enthusiasts who play just for the love of playing (although they don't do badly out of the equally enthusiastic crowd).
On every corner, you will find someone with a guitar or fiddle or just a penny whistle. Some of them barely into their teens – others old and grey and stooped but still going…
I was keen that we should see a game of hurling – the peculiar Irish sport which seems to owe something to hockey but also to basketball and tennis with maybe a bit of rugby thrown in – and certainly the egg-and-spoon race… 
After messing up the buses (Galway has three bus stations), we took a taxi to the Gaelic Athletic Association's Pearse Stadium and saw Kinvara beat Carnmore – so narrowly as it happens, that the final minute had the entire Carnmore team crowded round the Kinvara goal brandishing their hurleys in the hope of snatching the vital three points. It didn't happen but it did give a very good impression of what the Battle of Lough Neagh must have looked like.
This gave us such an appetite for this most exciting but unrecognised sport that we simply had to go and find a spot in the Front Door pub and watch Tipperary snatch the national title from Kilkenny. No wonder they wear helmets. 
There was a day when it stopped raining – although it didn't stop blowing. So we hired another bike from the West of Ireland Cycle Hire, stuffed it into the cargo bay of the bus and set off for the Burren. This is a huge and rocky chunk of landscape on the south side of  Galway Bay which might look pretty barren but in fact, is home to 70% of Ireland's collection of wildflowers.
If you're cycling, be warned, it does go up and down a lot but we stopped at St Fachtnan's Holy Well and dropped a coin in for the GCSE results. We could have taken The Old Bog Road but there was a small sign saying "This road is subject to flooding" – well, it would be, wouldn't it?
Later, over lunch and more Guinness at Cassidy's Bar we discovered that the Old Bog Road runs across the bottom of what is Europe's largest "disappearing lake" – that is to say that it's five metres deep when the rain finally stops and then takes a couple of days to drain away through underground caves and "swallow holes" before the weather turns "soft" again.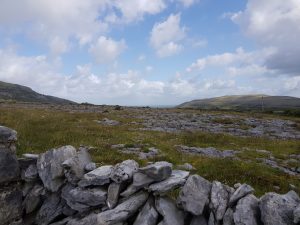 Cycling the Burren was a grand day, as they say over here, apart from one tiny detail: Our bus back to Galway was due at 4.50. By 5.20, the locals who were waiting, scattered up and down the pavement, sitting in doorways, poking at their phones, assured us that it would be here directly (sure, it's a bit late sometimes).
After three-quarters of an hour, when it still hadn't turned up, Hugo and I repaired to the pub opposite – whereupon the bus arrived. The driver – the same one who had taken on the outward trip – appeared resolutely unconcerned: "Sure, it's been busy today," was all he offered.
We were too late to get the bike back, but the guy at the hire shop let us off. He was a Londoner, but London Irish so that counts.
In the end, we did get to sail. There was a 48-hour gap in the weather towards the end of the week – enough to dash over to Kinvara, about seven miles, take the tide up to the village and go to the pub. The pilot book says "The passage should be undertaken with great care and continuous use of the echo sounder." 
We crept up,  just about maintaining steerage way, the tide doing most of the work and our noses pressed to our phone screens and the Navionics app.
Of course, after a couple of pints in the Pier hotel, we went back a lot faster – but then Hugo was driving, exhibiting all the resilience of youth.
I missed him when he left.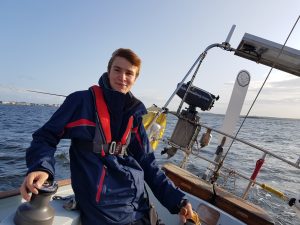 Then Con Brosnan turned up from Dublin half a day late and complaining about the traffic. Con is another Rival owner but his boat seems to have taken root in the yard in Gibraltar so it was back to Murphy's bar and then, walking along the pontoon and feeling that Ireland had got the social juices flowing, I stopped in my tracks at the sight of biggest, most solid, most classically beautiful boat you can imagine. 
This was FlekkerØy, a 1936 Norwegian pilot boat with not a winch in sight, fabulous woodwork, a 10ft clinker dinghy stowed upright on deck, deadeyes…
And yet there was an enormous Rocna anchor, a full-size Raymarine plotter in the cockpit. Modernity where it mattered – tradition where it belonged…
Bjornar Berg and Klara Emmerfors met in a boatyard – he was the mechanic and she the shipwright. FlekkerØy started life in 1936 as a pilot boat for the island of the same name and carried on in service until 1968. Bjornar bought her in 2005 and now they have cruised to the Shetlands, the Faeroes, Iceland, Greenland, Nova Scotia – all the way down the coasts of Canada and the USA to the West Indies.
But the Caribbean was not a success. FlekkerØy's 12m (by 4.6!) of woodwork absorbed every Joule of heat and promptly released it into the already-sweltering cabin. The two Norse people, more used to thick sweaters and two heaters for half the year, just couldn't cope with this at all. So they headed North again. 
I asked where they were going after Galway but they simply had no idea – nor did they know where they were going to spend the winter. 
"We'll see," said Bjornar. "For now, we like it here."
He had a point.