The reason I don't carry an emergency watermaker is because they cost about £1,000. If they were affordable, I would have one.
I have no idea whether the QuenchSea will work but it looks as though it might and so I have ordered two – one for me and one to sell on eBay. If they are a success, there is bound to be a huge demand and I will get my money back.
Of course, they might not go into production at all – in which case my gamble will not have paid off…
But, judging by what I have seen so far, I think it might be a successful launch – after all, the technology is not difficult. There is no reason why these things should cost a fortune.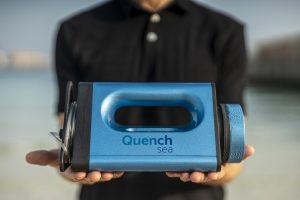 See what you think. If you order from this link, the company will send me a nice little thank-you (I hope you won't mind.)
https://quench-sea.kckb.st/94cefde3
Update January 2023
Well, they've arrived – they don't look much like the original picture. Now when I get it out of the box, I find this:
Anyway, now it's for sale on eBay: https://www.ebay.co.uk/itm/165866320515?mkcid=16&mkevt=1&mkrid=711-127632-2357-0&ssspo=DRYBxYtWSam&sssrc=2524149&ssuid=DRYBxYtWSam&var=&widget_ver=artemis&media=COPY
… although a number of people told me they bought one, I never saw a penny!